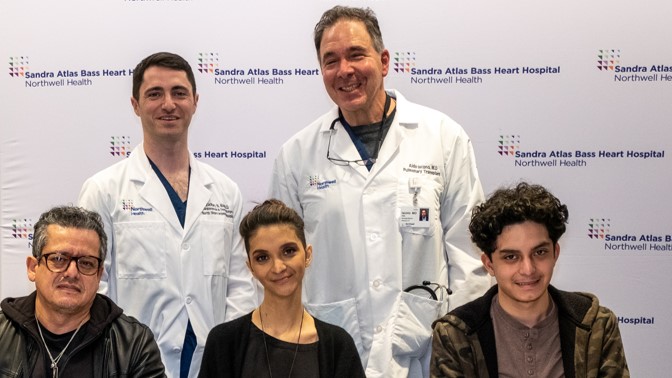 For most people, turning 40 means a round of parties and a lot of gifts. But for Lindsay Salguero-Lopez, of Port Washington, the big celebration came a few days early when she became the first person on Long Island to receive a heart and two lungs from a single donor at the Sandra Atlas Bass Heart Hospital (SAB) at North Shore University Hospital in Manhasset.
The former model and mother of a teenage son returned to Northwell Health to thank the team of pulmonologists, cardiologists and surgeons who performed a groundbreaking eight-hour surgery on February 5 – the first lung transplant surgery on Long Island. During the complex surgery, Ms. Salguero-Lopez received two lungs and a heart – all from a single donor.
"What was so impressive about this very complex surgery is that we began this program with a team of highly experienced surgeons," said Zachary Kon, MD, Northwell's surgical director of advanced heart failure and cardiac transplantation as well as advanced lung failure and lung transplantation. "It might have been the first one of its kind in this physical location, but it certainly wasn't the first for this experienced team."
Ms. Salguero-Lopez's story began in her native Guatemala when she was diagnosed with Eisenmenger Syndrome, a condition caused by a ventricular septal defect (VSD), a hole in the heart that prevents the blood from moving in the correct direction (from left to right, through the lungs where it receives oxygen, then back to the heart and the rest of the body).
"I was diagnosed with heart trouble when I was 6 years old," she said. "My mother was told that she should enjoy me while she could. Until I underwent transplant surgery, I never knew what it was like to walk or talk without being exhausted. Most recently, the idea of cooking or even getting dressed was impossible for me. My husband had to carry me everywhere."
Thanks to her mother's determination to seek better medical treatment, the family immigrated to the United States when she was just 15. Arun Talwar, MD, a pulmonologist at Long Island Jewish Medical Center in New Hyde Park, has been treating Ms. Salguero-Lopez since 1998. He treated the pulmonary hypertension that caused severe lung damage while guiding her through pregnancy and an increasingly dangerous medical situation.
"I believe that Lindsay's successful outcome is largely due to her optimism, her compliance to treatment and her willingness to take on the challenge of transplant," Dr. Talwar said. "Courage is the determination of the soul; that courage is what she displays so well."
Illness impacted her life in a myriad of ways, including the fact that she had to keep her hair cut short – a painful development for a one-time model – because hair requires oxygen in order to grow. "My air supply was so limited that I had to keep my hair short," she said. "That was very sad for me."
On January 27, Ms. Salguero-Lopez was brought to North Shore after becoming ill during a family shopping trip. A critical moment had arrived – and the timing could not have been better. Donor organs became available soon afterward.
"A few days later, we were able to give her the news that she had been placed on the waiting list for two new lungs and a heart," said Dr. Kon, who on February 2 learned the organs had been located and were on the way. "In a surgery that lasted about eight hours, we were able to replace her failing organs with a new heart and two lungs.
"It is beyond a pleasure to see Lindsay doing so well today after learning about her lifetime of suffering. Her story is the reason why doctors do this work – to remove our patient's suffering and return her to good health and a fine quality of life."
After thanking her entire medical team, that also included Samit Shah, MD, the cardiologist who continues to follow her care, and Aldo Iacono, MD, director of advanced lung disease and transplantation at Northwell, Ms. Salguero-Lopez spoke emotionally about going through the transplant experience.
"As I prepared for the surgery, I prayed that God would provide a miracle on that day," she said. "I knew that I was not ready to die; I wanted to spend more time with my son and my husband. The days before transplant were very frightening. I was so weak that I couldn't walk or even cut up a tomato. I'd been using oxygen tanks for over 10 years. It's certainly a scary decision to consent to transplant, but I trusted all my doctors. For me, it was like a dream to have this surgery at North Shore University Hospital. I gave birth here – this is my second home. Ultimately, I came to the decision that life is a gift. Even in the toughest days, I decided to fight for my life. And, thanks to all these doctors, I am well – for the first time in my life."
About Northwell Health
Northwell Health is New York State's largest health care provider and private employer, with 22 hospitals, 830 outpatient facilities and more than 16,600 affiliated physicians. We care for over two million people annually in the New York metro area and beyond, thanks to philanthropic support from our communities. Our 78,000 employees – 18,900 nurses and 4,800 employed doctors, including members of Northwell Health Physician Partners – are working to change health care for the better. We're making breakthroughs in medicine at the Feinstein Institutes for Medical Research. We're training the next generation of medical professionals at the visionary Donald and Barbara Zucker School of Medicine at Hofstra/Northwell and the Hofstra Northwell School of Nursing and Physician Assistant Studies. For information on our more than 100 medical specialties, visit Northwell.edu and follow us @NorthwellHealth on Facebook, Twitter, Instagram and LinkedIn.