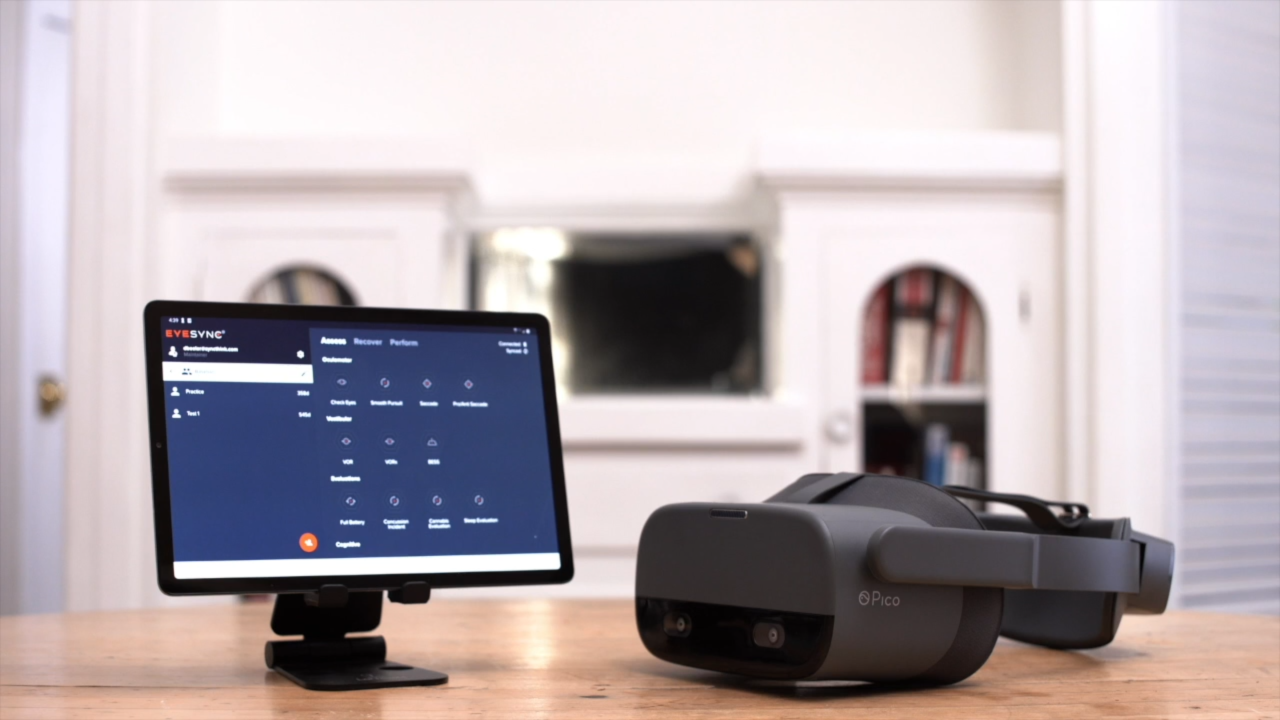 SyncThink, a neurotechnology company and developer of the EYE-SYNC technology, announces today the expansion of its partnership with Pico Interactive, a global technology company that develops VR and enterprise solutions, and the integration of its platform onto the Pico Neo 3 Pro Eye headset. With the added availability of the 3 Pro Eye headset, the FDA Cleared EYE-SYNC technology is now accessible on three innovative XR devices, with a fourth in development and additional device integrations to be announced.
"We are excited to continue our work with Pico on the 3 Pro Eye to continue to provide clinicians with the latest technological advancements in Virtual Reality, while simultaneously delivering a best in class patient experience," said SyncThink CCO Scott Anderson.
"We value our growing relationship with the SyncThink team and are pleased by their commitment to using the 3 Pro Eye to better serve their product mission. It is exciting to see Pico's unique XR devices enable their market leading software and analytics tools to become more accessible to patient care sites everywhere," said Mika Cavanaugh, US Account Director for Pico Interactive.
The Neo 3 Pro Eye enables EYE-SYNC to leverage a fully integrated headset that allows patient assessments to begin within ten seconds of power-up. With built-in Tobii eye tracking capabilities operating at 90Hz, clinicians can capture more significant and robust data to support clinical decisions. Additional features such as surround sound spatial audio automate the test procedures and patient instructions, saving valuable time in the process. SyncThink will begin deploying Neo 3 headsets this month, including offering upgrade pathways for existing customers.
SyncThink and the EYE-SYNC technology received its second FDA Clearance in 2021 as an Aid to Concussion Diagnosis, or mild Traumatic Brain Injury (mTBI) Diagnosis. It combines proprietary software and data analytics with high performance eye tracking sensors to measure and quantify eye movement biomarkers reflective of impairment or disease. It is currently used by healthcare providers in hospitals and rehabilitation centers, sports, military, and in CNS drug development around the world.
For more information about SyncThink, visit www.syncthink.com.
For more information on Pico Interactive, visit www.pico-interactive.com.
About SyncThink
SyncThink is on a mission to provide objective neurological measurements that assist medical professionals in assessing brain health, managing recovery and optimizing performance. SyncThink develops revolutionary eye-tracking software and analytic technologies, delivered in a rapid, accurate, and easy to use XR platform. With more than 30 published peer-reviewed papers and 15 granted patents, the SyncThink platform uses a series of 60-second assessments to objectively measure eye movements to identify impairments and offers multiple modalities to train dynamic vision. FDA-cleared for detecting eye-tracking impairment and used by leading medical centers such as Stanford and Massachusetts General, the U.S. military, and more than 20 top universities, SyncThink is transforming neurological assessment, recovery, and performance for health and sport. www.syncthink.com
About Pico Interactive
Pico Interactive focuses on innovative VR and AR solutions that enable businesses to create and experience the best in VR and Interactive Computer-Generated Imagery (CGI). With operations in the United States, Europe, China and Japan, Pico Interactive focuses on creating amazing VR platforms for any application and is built around the principle of "user-first design." To learn more, visit www.pico-interactive.com.