By Mazen Noureddin, M.D., Director, Fatty Liver Program, Cedars-Sinai Medical Center |
Fatty liver disease (FLD), including non-alcoholic fatty liver disease (NAFLD) and the more problematic non-alcoholic steatohepatitis (NASH), are conditions that accompany the epidemics of obesity and diabetes. These conditions often lead to advanced fibrosis and liver cancer, liver transplantation, increased risk of cardiovascular events and all-cause mortality. The worldwide prevalence of NAFLD is about 25%, with a burden that has increased 10% since 2005 in parallel to rising rates of obesity. The prevalence and associated costs of underdiagnosed liver disease is over $100 billion in annual direct costs.
As these twin epidemics of liver disease and obesity continue to grow, it's likely that demand for non-invasive tools for early detection and monitoring at the point of care will gain traction among U.S. physicians and specialists – and indeed, worldwide.
Currently available noninvasive tests, including FIB-4 and liver stiffness measurement (LSM) by vibration controlled transient elastography (VCTE), are highly effective in excluding cirrhosis and advanced fibrosis, but their ability to rule them in is moderate. The issue is that a single biomarker cannot answer all liver health questions.
Recent advances now enhance VCTE liver disease assessment with biological and clinical markers. When VCTE results are combined with the results of these parameters, providers can obtain the best performance and a better identification of patient liver issues earlier in the disease progression.
For example, FibroScan, a VCTE tool for early detection and monitoring at the point of care has added Agile Scores to detect advanced fibrosis and cirrhosis in NAFLD patients, reduce the number of false positive cases compared to LSM by VCTE alone, accurately predict liver complications and, in coming years, identify patients eligible for pharmaceutical treatments, along with the FAST score, which also uses VCTE.
Closer Look at Agile Scores
Agile scores deliver a new level of value for physicians by enhancing capabilities in the management of NAFLD patients, improving early identification of those who are at risk and helping providers initiate the right intervention. Agile scores also make it possible to gain a more accurate prediction of liver complications and identify patients sooner for hepatocellular carcinoma (HCC) and portal hypertension screening.
Agile 3+ can improve the identification of advanced fibrosis among patients with NAFLD and may reduce the necessity of liver biopsy in this patient population.
Agile 4 improves the identification of cirrhotic patients and may reduce the need for liver biopsy for this diagnostic target, as well as identify patients for HCC and esophageal varices screening.
Both scores target advanced fibrosis and cirrhosis. What's more, high clinical performances were demonstrated for Agile 3+ and Agile 4 in large external validation cohorts from different geographical origins. In addition, a forthcoming peer-reviewed paper under submission demonstrates enhanced diagnosis of advanced fibrosis and cirrhosis in non-alcoholic fatty liver disease patients.
To enhance clinical decision support, an interpretation guide that utilizes data from clinical studies can be used to assist medical providers in interpreting VCTE examination results.
Adopting the Right Technology
Hospitals, health systems and physician practices interested in adopting VCTE technology should look for tools that produce numeric measurements—not images—for simplified interpretation and consistency of measurement. This enables clinicians to monitor changes in liver tissue over time.
Unlike blood tests that measure circulating markers of inflammation, such as alanine aminotransferase (ALT) and aspartate aminotransferase (AST), VCTE generates reproducible results and allows for both diagnosis and monitoring of liver stiffness and liver fat, which is helpful for patients who have made lifestyle changes to mitigate the impact of obesity and associated liver and heart disease.
VCTE technology enhanced by additional biological and clinical scores helps providers identify patients with advanced fibrosis–F≥3 according to NASH CRN scoring system)–which is critical for the management of patients with NALFD because they are at increased risk of developing liver-related complications.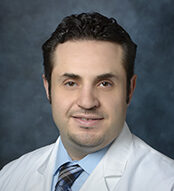 About the Author
Mazen Noureddin, M.D. is the Director of the Fatty Liver Program at Cedars-Sinai Medical Center