By Kelly Chillingworth, RPh, MHA-Ed, CGP, Director of Business Development, RxBenefits |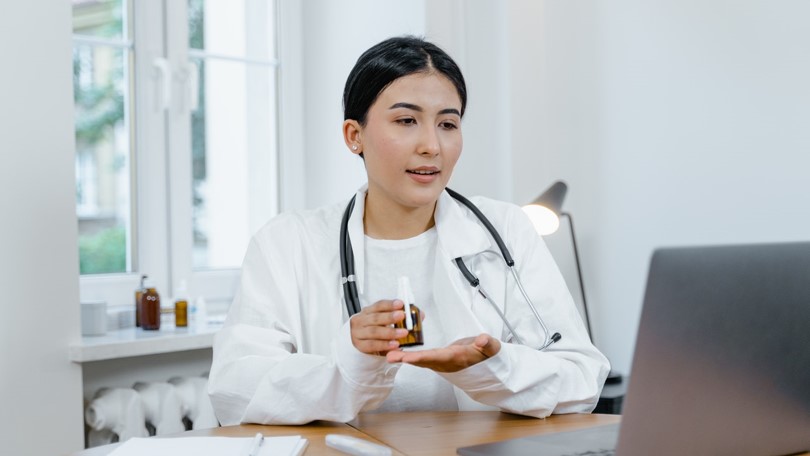 Telemedicine was once considered a luxury but became the "new normal" for many patients at the onset of the COVID-19 pandemic. And while many have returned to in-office doctor's visits over the last few months, the use of telemedicine has remained strong. In fact, according to a recent Jarrard poll, two out of five American adults would use telehealth to get medical care with the rise of the coronavirus delta variant. Additionally, a recent McKinsey report showed that telehealth utilization has stabilized at levels 38 times higher than before the pandemic. It's clear that patients have become accustomed to using telehealth and expect it to remain an affordable, accessible option moving forward.
Telemedicine is increasingly being integrated into health benefits packages, and hospitals are among the largest providers. About 76% of U.S. hospitals connect with patients and consulting practitioners at a distance through the use of video and other technology. One of the unique challenges and opportunities hospitals face is that they serve as both an employer and a provider of healthcare services. Moreover, hospital employees typically utilize healthcare benefits at a higher rate than employees on the average commercial plan.
As hospitals and health systems look to increasingly offer telehealth services to create competitive benefits plans as part of their employee recruitment and retention strategy, it is important to understand the impact of telemedicine use on pharmacy benefits, and how employees are actually using the service in order to make the most effective benefits decisions moving forward.
The Connection Between Telemedicine and Pharmacy-related Costs
With telemedicine, patients can get a diagnosis and prescription from their doctor whether they are across town or across the country. This creates a unique connection between telehealth and the pharmacy that healthcare organizations should be aware of as they further integrate virtual care into their care delivery models.
​​Although telemedicine services were not new at the start of the pandemic, the demand and coverage for them increased during COVID-19. As some insurers began to offer telehealth coverage, we saw a rise in telehealth utilization among patients. This increase in telehealth utilization has impacted medical and pharmacy benefit plans, and self-funded employers, including hospitals, can attribute some changes in prescription volumes to those encounters. For example, patients who saw their doctors via telehealth were triaged or diagnosed, often resulting in a prescription order. These orders were typically for acute medications to treat allergies and infections, but also led to 90-day continuations of previously prescribed medications to treat existing conditions such as high blood pressure or high cholesterol.
The increased use of telehealth services is not expected to substantially raise prescription drug spend, however. This is primarily because more costly specialty medications are unlikely to be prescribed for the first time via telemedicine. Rather, telehealth visits tend to replace in-person visits for acute conditions, which often result in the prescribing of less-expensive generic medications. Additionally, when patients leverage telehealth for a chronic condition such as high blood pressure, any medications prescribed typically represent a prescription refill for ongoing therapy rather than a new prescription.
Understanding Your Patient Population
Telehealth is convenient for members and, when a virtual visit is appropriate, it can also provide savings in the form of lower reimbursement rates and more affordable service fees than those billed at onsite consultations. For example, the costs of a telemedicine visit are generally lower than a regular in-office visit or ER visit. Although costs vary, telehealth appointments typically charge around $50 per visit, whereas the traditional face-to-face visit costs around $176.
Of course, patients have different comfort levels and priorities when it comes to their care. Understanding the unique needs of employees will help employers make more informed decisions on their virtual care offerings.
For example, according to the HIMSS 2021 State of Healthcare Report, more than 70% of younger generations (Gen Z, millennials, and Gen X) said they prefer telehealth because of convenience, and 44% of Gen Z and millennials surveyed said they may switch providers if telehealth visits aren't offered going forward.
Leveraging data and predictive analytics to review claims files over the last year in conjunction with patient demographics, prescription patterns, and more is the ideal way to truly understand member preferences and pharmacy benefits needs so benefits plans can be customized accordingly.
Looking Ahead
As healthcare organizations increasingly evaluate offering telehealth options for their employees in some capacity, it will continue to have an impact on pharmacy benefits. Patient convenience, the desire to keep variant infection rates low, the relatively low cost of these services, and other aspects of care will all be factors in coverage.
Additionally, the rise in telemedicine has brought about an increase in virtual pharmacies, which accelerated during COVID-19 as patients needed more convenient healthcare offerings. For example, last year Amazon announced a remote retail pharmacy solution that will accept insurance and be in PBM pharmacy networks by leveraging PillPack, an online pharmacy that fills prescriptions by mail. Other retailers like Costco also announced a new online pharmacy, and local brick-and-mortar pharmacies are beginning to offer home delivery services as well. These offerings are simply another option for members to fill their prescriptions, and employers should evaluate their pros and cons as compared to traditional pharmacies.
However, hospitals should evaluate these pharmacy offerings with a close eye and seek to leverage their own resources – i.e., the hospital's onsite pharmacy – whenever possible. By doing so, hospitals can maximize their pharmacy benefits and realize additional cost savings.
Offering a virtual service model ensures members are receiving the care they need in the format that works best for them. Telemedicine can connect patients to their doctor regardless of where they are in relation to their healthcare practice or pharmacy. Even as patients begin returning to in-person visits, telehealth will remain a desirable option for convenience and social distancing.
Although it can be challenging to predict the true impact of telemedicine and its associated pharmacy-related costs, it will be based on how members choose to utilize the services provided. Understanding the unique needs of members can help healthcare providers make more informed decisions on the virtual care offerings they make available to their employees. By evaluating telemedicine services as they relate to employee utilization data, hospitals can create a compelling, competitive benefits package that is also cost-effective for the organization. In this way, hospitals and health systems can offer a plan that truly supports employee health and meets the evolving needs of a happier, healthier workforce.
About the Author
Kelly Chillingworth, RPh, MHA-Ed, CGP, serves as the Director of Business Development, for RxBenefits, the employee benefits industry's first and only technology-enabled pharmacy benefits optimizer (PBO). With more than 26 years of experience as a pharmacist as well as prior experience holding various senior-level positions in the benefits industry, she has a unique understanding of the intricacies of pharmacy benefits through the lens of a clinician.