By David Berg, President and Co-Founder of Redirect Health |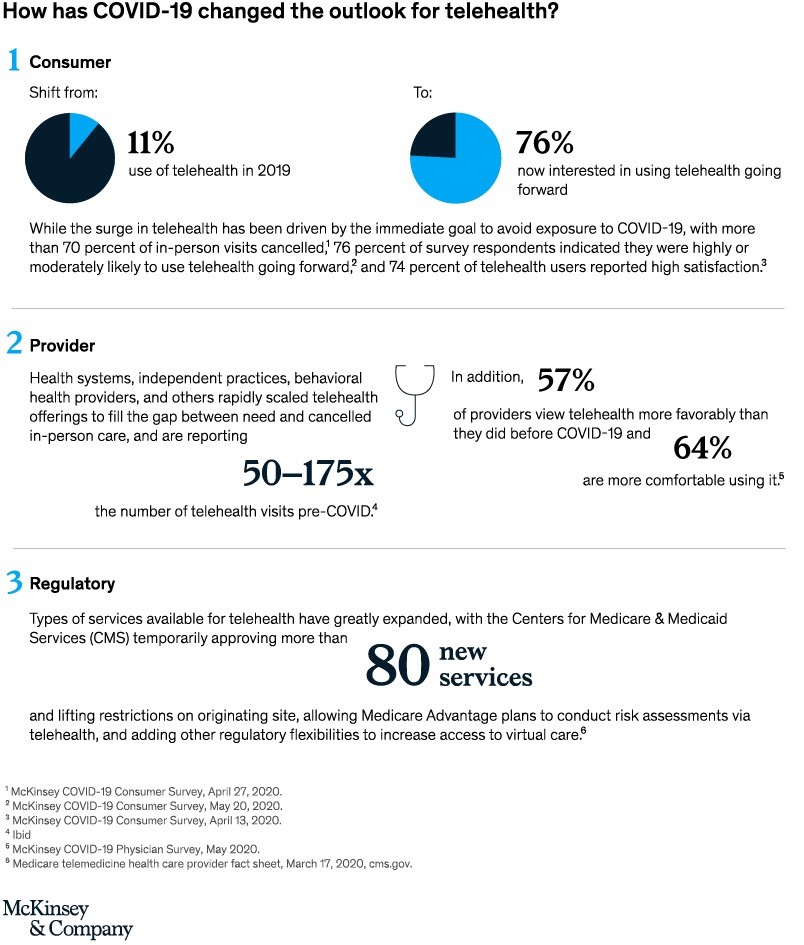 "Telehealth." From news headlines to doctor's offices, the phrase has become ubiquitous. In 2021, telehealth usage has increased nearly 38x pre-COVID baselines, and 83 percent of patients say they are likely to continue using telemedicine once the pandemic ends. Increasingly, the option to have a doctor's appointment virtually, in the comfort of your home, has gone from being a foreign practice to the overwhelmingly preferred way of receiving care.
But is Telehealth Really New?
The answer to that question is simple: Not at all. Telehealth has existed since shortly after 1876, when Alexander Graham Bell made the first telephone call. From the first telephones to now, doctors have always been using phone calls to administer care or advise patients.
Telehealth isn't a new concept. It's a newly embraced concept. Advancements in technology are ever continuing. Not to mention, the payment model for our healthcare system—which used to only pay for the brick-and-mortar visit to a clinic or hospital—now pays for a virtual services. How we pay medical providers is a huge driver to telehealth's new acceptance and success.
Is Telehealth Here to Stay?
Absolutely. Telehealth is quicker, more convenient, and easier than traveling to a doctor's office. With the pandemic, it's the safer way for people to protect themselves from COVID-19 exposure.
But is telehealth in its current form here to stay? I don't believe so. Moving into 2022 and beyond, the focus will shift from telehealth to "virtual-first" healthcare. This means that a virtual visit will always be the "first" interaction with a physician. However, patients won't forgo seeing their doctors in person–if, and when, they need to. It is expected that an in-office visit will sometimes be recommended as the next necessary step during a virtual session. In this context, think about the impact of that virtual-first visit – by simply having the capability of a doctor assessing your situation virtually first, accessibility, availability and costs can be dramatically improved.
Fear and uncertainty are the drivers of many in-person ER and Urgent Care trips. With virtual-first care, the opportunity to be counseled, advised, and treated expeditiously and virtually will become the norm. In-office appointments will be fast-tracked the next day or next week, depending on the urgency determined by the doctor. With the virtual-first model, unexpected high-cost bills from unnecessary emergency room visits, especially those influenced by fear and uncertainty, will be avoided altogether in most instances.
Much Like Telehealth, Virtual-First Isn't New
Virtual-first healthcare is about doing what other industries have been doing for the past decade. When you buy furniture or clothing, it's often virtual-first on your phone or computer. Customers only travel to the showroom when they need to touch something. It's what most every doctor has been doing for decades when their own loved ones need healthcare or are worried.
More and more this is how medical issues will be handled. No longer will you have to wait for your visit at a clinic or hospital for physician advice or routine prescriptions. The office visit may still be part of the process, but not the very first part. This is the most dramatic shift we will see in the future – communicating with a doctor virtually will be near the first part of the process. Patients won't have to take a day off work, travel across town or wait in a clinic unless necessary and recommended by a clinician.
The Money Aspect
Much of the success of virtual-first care relies on the financial business model surrounding it. Before the pandemic, doctors didn't get paid to talk with you on the phone. But with COVID-19, it became dangerous to sit in a clinic with other sick people. Our legislators reevaluated the uncertainty medical providers faced as they stepped up to help with managing our country through the crisis. Providers needed to be assured that it was legal to talk with a patient who might be in another state where they weren't licensed to practice.
The federal government also formally suspended laws and regulations that pulled into question the legality of a clinician using a phone call in place of video to initiate first level care. And, to allow virtual-first care to work, Medicare and other payers began paying providers to work from phones and computers. The combination of relaxing licensing and video requirements and paying providers for virtual services allowed healthcare to become much more efficient. Costs and patient accessibility improved considerably.
Today, virtual-first models can make healthcare delivery exceptionally better when incorporated into an organized system. Virtual-first reduces astronomical costs associated with brick-and-mortar systems of medical care. To get healthcare costs down, people will need to first visit with providers virtually, avoiding unnecessary visits to the hospital, ER, and clinic. This allows the patient to be guided with confidence toward an appropriate level of care, place for care, and with the appropriate urgency.
The Future is Bright
Telehealth will soon be included with every healthcare offering. There's no going back now. It's a must-have, period. Every employer healthcare plan will soon offer it—with employees choosing virtual care more and more as the starting place for their healthcare journeys. If virtual-first care, with the current relaxing of licensing and video requirements, and with fair payment to providers, is plugged into the normal healthcare ecosystem, it will significantly impact everyone. My hope is that virtual-first care will quickly be the evolution of telehealth and become the foundation for truly accessible and affordable healthcare.
About the Author
Dr. David Berg is the President and Co-Founder of Redirect Health, where he has leveraged his decades of healthcare leadership experience to make healthcare simple and affordable for businesses throughout the country. Prior to co-founding Redirect Health, Dr. Berg established and maintained successful healthcare clinics both in Canada and the United States. Dr. Berg is the author of  The Business Owner's Guide to Ending the Fight with Healthcare, a how-to guide that helps business owners leverage healthcare as a competitive advantage. In 2018, the Phoenix Business Journal honored Dr. Berg with the "Healthcare Heroes Innovator Award" for creating a transformative healthcare member experience that eliminates barriers for people to get affordable healthcare. Dr. Berg was also the finalist for three best-in-class awards at the 2018 World Health Care Congress in Washington DC. He holds degrees in Physics and Biology from the University of Toronto as well as a Doctor of Chiropractic degree from The Canadian Memorial Chiropractic College.