By Derek Hartman, content writer at Eon |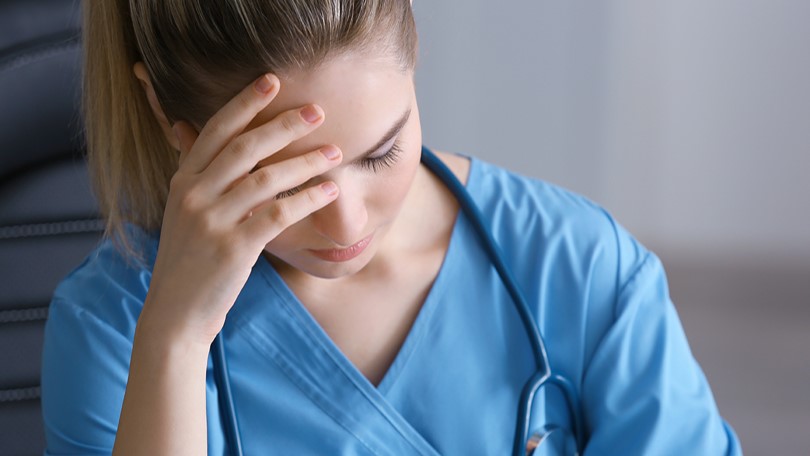 Nursing is not just one of the most important jobs in healthcare, it is also one of the jobs most susceptible to burnout. The term burnout was first used in 1974 by Herbert Freudenberger, a clinical psychologist who observed first-hand healthcare professionals who exhibited a combination of exhaustion, cynicism, and perceived inefficacy from long-term job stress. Today, the National Institute of Health characterizes it as a decline in physical, emotional, and psychological energy resulting from work-related stress that leads to cynicism toward clients and colleagues and feelings of low self-efficacy. The emotional challenges of caring for sick patients takes its toll, but burnout is also caused by inadequate support, a lack of resources and control, and work overload.
According to the American Nurses Association:
54% of nurses report excessive workloads
1 in 3 report inadequate staffing levels
50% say they spend an insufficient amount of time with patients
Despite all the efforts that facilities have made to address it over the years, burnout remains a problem. One 2001 study found that a staggering 43% of nurses working at U.S. hospitals experience symptoms of emotional exhaustion [1], and another study in 2011 reported burnout in 37% of nurses providing direct patient care in nursing homes, and 33% among hospital nurses [2].
And when burnout gets to be too much, nurses quit. The Journal of the American Medical Association surveyed nurses who quit their jobs in 2018, and 31.5% reported they did so because of burnout. Most recently, a 2019 report based on over 2,000 healthcare partners showed that 15.6% of all nurses reported feelings of serious burnout, with 41% of nurses reporting that they felt unengaged with their jobs [3] and were at risk for quitting.
Today, burnout has become even more of a serious problem affecting healthcare as thousands of nurses are leaving bedsides across the country. Dealing with the COVID-19 pandemic was simply too much for many nurses, and those who remain face the increasing demands of healthcare.
The New Battle Against Burnout
The question now is, what more can be done today to help retain these highly trained, incredibly valuable professionals? The same 2019 report found that 50% of those nurses who had reported feelings of serious burnout also reported that they had no plans to leave their organization [3]—so what can be done to support such dedication and investment in human capital? Now is the time to solve this problem—nursing is already the largest healthcare profession in the U.S. with more than 3.8 million registered nurses (RNs) nationwide, and the federal government projects that more than 200,000 new RN positions will be created each year through 2026, much faster than the average for all occupations [4].
As demand for nursing increases each year, facilities must prevent and address nursing burnout while also improving patient care by changing some of the core causes of burnout: work overload, poor support, and a lack of resources and control.
The Right Technology Can Ease the Burden
Healthcare technology has improved patient care and outcomes, but it has also created an enormous amount of data entry requirements for nurse navigators. A recent survey found that nurses spend 56% of their time accessing and updating patient records, time which could have been spent on patient care [5]. The same survey found that 63% of the respondents said they had a device or system failure every week. All of this contributes to technostress, and negatively impacts nurses' wellbeing.
The root cause of this problem is outdated technology that is still heavily used within healthcare systems. EMR/EHR systems that are currently being used were initially billing systems and are not designed to take into consideration user workflow. These EMR/EHR systems are also using technology from the 90's and are very slow to adopt the latest technology. Artificial intelligence (AI) has the power to significantly reduce the amount of administrative work a caregiver must do—from automatically pulling out information from a report to allowing for dictation, there are many ways the right technology can help.
For example, nurses or nodule coordinators who are managing incidental findings patients and cancer screening patients generally find it nearly impossible to keep track of the information, and use different methods ranging from Excel sheets to file folders to sticky notes, as existing EMR/EHRs don't offer the functionality to keep track of these patients within their system. Add to that the extensive data requirement for screening registry, and nurse navigators spend almost all their time doing data entry or keeping track of patients. Some hospitals hire multiple FTEs just to manage the burden of patient tracking and data submission. This also results in patients falling through the cracks.
A solution to this problem is Computational Linguistics (a form of AI) to automatically detect documented incidental findings from radiology reports, add those patients to a dashboard for easy longitudinal tracking, and automate the follow-up and communication. Platforms such as Essential Patient Management (EPM) created by Eon can accomplish this. The EPM dashboard also automates critical important tasks and creates worklists so a user can easily see which patients are scheduled for their exams and who needs follow-up, among others. EPM technology can also predict which patients are at risk of missing their follow-up, allowing nurse navigators to make necessary interventions. The platform automatically extracts hundreds of pertinent data fields and adds them to the dashboard, saving navigators over 90% of admin time.
More Support & Technology Can Eliminate Virtually All Admin Work
Even with the recent advancements in technology to support program processes, some important administrative work remains that must be done by nurse navigators, like patient and provider communication. Systems like Eon's Centralized Management offer a hybrid of technology and professional services that can fully manage all those additional administrative aspects of a program, reducing even more the burnout-causing factors of a nurse navigator's workload. With Centralized Management, a team of highly trained healthcare professionals and automated technology takes care of critical time-consuming tasks such as patient triage; timely patient and provider communication via letters, phone calls, texts, or any other method that works best for patients; and tracking all evidence-based follow-up.
Centralized Management takes care of much of the workload while eliminating admin, optimizing workflows, decreasing patient leakage, and improving patient outcomes. In fact, facilities benefit from a 65.6% increase in patient adherence when navigators are involved.
Nursing is a demanding profession that will always have some level of burnout. Big steps have been taken recently to address the problem, but as healthcare continues its rapid pace forward, technology must keep the end user in mind by creating more efficient processes and better workflows. Solutions like Eon EPM software and Centralized Management are leading the way in fighting burnout, providing the expert support and time-saving resources that nurse navigators need to stay focused on the most rewarding part of the job—essential patient care.
References:
Nurses' Burnout: The Influence of Leader Empowering Behaviors, Work Conditions, and Demographic Traits.
Nurses' widespread job dissatisfaction burnout, and frustration with health benefits signal problems for patient care. McHugh MD, Kutney-Lee A, Cimiotti JP, Sloane DM, Aiken LH. Health Aff (Millwood) 2011;30:202–210. [PMC free article] [PubMed] [Google Scholar]
Torpey, E. (April 2018). Employer outlook for bachelor's level occupations. Bureau of Labor Statistics.