By Brandon Salke, Pharm.D., Pharmacist-in-Charge, Optime Care |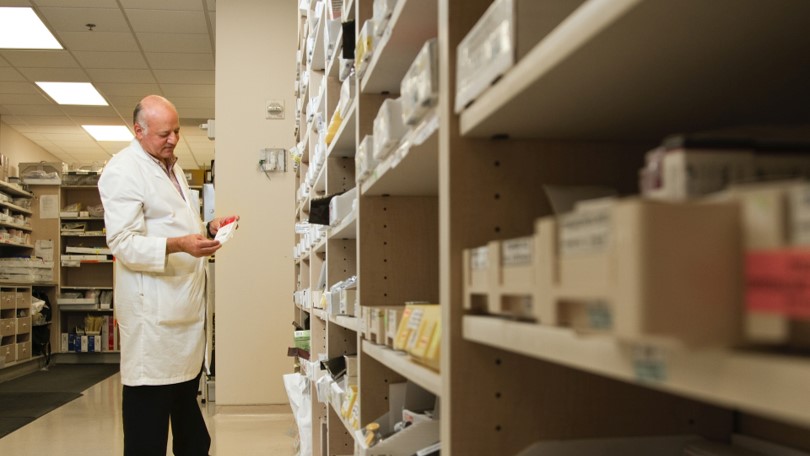 When a patient is diagnosed with a rare disease, it can be a challenge not only for the patient, but also for their primary family caregiver. Rare diseases present unique difficulties, along with physical and emotional burdens for caregivers who receive no financial compensation.[i]
These caregivers play a critical role in navigating a fragmented healthcare system and the challenges of disease management, which directly affects the patient's care quality and outcome. The inherent challenges of rare diseases often involve a lack of disease-specific information, diagnostic delays, inadequate treatment options and limited access to healthcare.
In today's technological age, the "human touch" in healthcare has become increasingly absent. While some health care organizations call themselves "personalized" or "patient first," the truth is they often fail to put this idea into practice. In fact, far too many patients experience the retail pharmacy approach in which they are treated more as a daily quota, and not as a someone facing an enormous life challenge. Now more than ever, rare disease patients need to be at the center of care.
This is where specialty pharmacists can play a significant role for patients and caregivers by providing an elevated level of customized care, helping caregivers optimize medication adherence, manage side effects and ensure that the patient feels heard to achieve the best possible quality of life and outcome.
Addressing Non-Clinical Issues
A patient-first approach prioritizes the needs of each patient, helping patients and continually supporting them from day one and for their entire patient journey. This focus is particularly effective for patients with chronic disease or a rare disease who face an array of non-clinical issues, such as navigating insurance coverage and lack of streamlined information.
Patient-first specialty pharmacists have gained in-depth knowledge on a range of rare diseases and are better able to work with the caregiver and patient in a way that also frees up physicians and specialists to focus more efficiently on identifying the best therapy and long-term plan of care. What's more, specialists treating these patients appreciate the additional insight, enhanced level of treatment and focus on overcoming communication hurdles.
Enlisting the help of a patient management organization that specializes in care coordination empowers healthcare professionals to focus on the patient experience through programs, services and specialized expertise that meets the needs of patients with a rare disease.
This added level of disease-specific expertise also enables pharmacists to increase the caregiver's understanding of the disease, which can help to further engage the patient in their treatment.
Forging a Stronger Pharmacist/Caregiver Relationship
A patient-first approach facilitates positive outcomes for the patient and encourages solid, long-lasting relationships based on compassion across the care team that includes the caregiver as part of the patient-first focus.
This approach fosters greater support and enables care insights and information to be better communicated. What's more, specialty pharmacists who take a patient-first approach become almost a part of the family, listening to and sharing personal stories and developing the kind of relationships that uplift the pharmacist and the patient and their caregiver. This family environment can have a very positive impact on patients.
Pharmacy professionals who make patient-first a key aspect of their organizational culture can work with the caregiver to better address a patient's immediate and long-term needs and engage them every step of the way, while gaining insights for better managing the patient experience.
Ultimately, a patient-first approach makes life for the caregiver easier because every care decision is based on how it will benefit the patient. They understand that keeping the patient's overall health in mind with every decision, large or small, will ultimately lead to improved overall health, not simply for the patient, but also for the caregiver.
About the Author
Dr. Brandon Salke serves as the pharmacist-in-charge and General Manager at Optime Care in Earth City, MO. He previously served as a team pharmacist for Dohmen Life Science Services, where he helped launch several new care programs and assisted in the management of clinical trial activities. He is specialized in specialty pharmaceuticals, particularly ultra-orphan, orphan, and rare disease. Dr. Salke has been involved in all aspects of operations (planning, process integration, project management, etc.) for pharmaceutical manufacturers. This includes clinical trials to commercialization and assisting in commercial launches (and relaunch) of specialty pharmaceuticals.
Dr. Salke completed his PharmD from St. Louis College of Pharmacy (StLCOP) in St. Louis, MO and holds the Certified Specialty Pharmacist (CSP) credential from the National Association of Specialty Pharmacy. He is currently an active member of the National Association of Specialty Pharmacy (NASP), American College of Clinical Pharmacy (ACCP), American Society of Hospital Pharmacists (ASHP), and the Missouri Pharmacists Association (MPA).
Dr. Salke currently holds a pharmacist license in 20 states and the US Territory, Guam, providing him a deep understanding of state and federal pharmacy regulations.
[i] Xu, Jiao et al. Family caregivers of rare disease. Molecular Genetics. 2021. Family caregivers of rare disease: A survey on health‐related quality of life in family caregivers for Gaucher disease patients in China – Xu – 2021 – Molecular Genetics & Genomic Medicine – Wiley Online Library. Accessed Nov. 8, 2021.